Back in the early 90's I started to do a lot of long distance traveling
and camping by motorcycle. I tried lots of different ways to get everything packed
onto my bike but was not happy with the products that were available.
Carrying things like a tent, thermarest, ground cover, and rain gear on the
passenger seat secured by bungee cords was less than satisfactory.

Bungees stretched and flexed and several times I found myself one parcel short when
I reached my destination due to something slipping out at speed. Not to mention,
almost putting an eye out while stretching a bungee to get that last item stuffed in there!

I then tried throwing everything into an old green army duffel bag and lashing
that on- this worked fairly well with no more lost items, but I still had the problem
of the load shifting around in curves and over bumps.

I started brainstorming on different ways to keep the bag from moving around,
visited some fabric stores, and came up with my own version of a duffel bag that
had a strapping system to keep it in place no matter what!
I also experimented with various strap connectors to find something that was quick, easy to use,
and secure. I was happy with the ease of use of D-rings but had to do considerable research to find
a d-ring that was strong enough to pass the "gorilla test" .

Soon, people were noticing what I had strapped to the back of my bike.
I decided that I would make a few extra bags and straps and carry them with
me so I could show them around and maybe sell a few to pay for my gas.

Things have evolved somewhat and I have added a few more things to the list
of items that I make. My basic philosophy is form follows function, keep it simple!
Everything is handmade in my basement studio in the mid-Hudson Valley region of NY
where I live, work, and ride. I am fortunate to have great roads and fun riding companions.

Ride safe!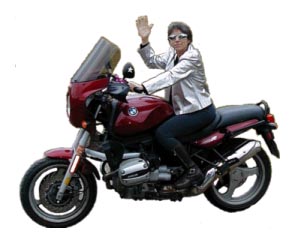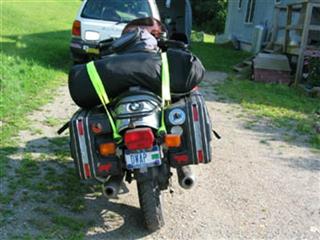 These pages © DWAP, 2005. All rights reserved.